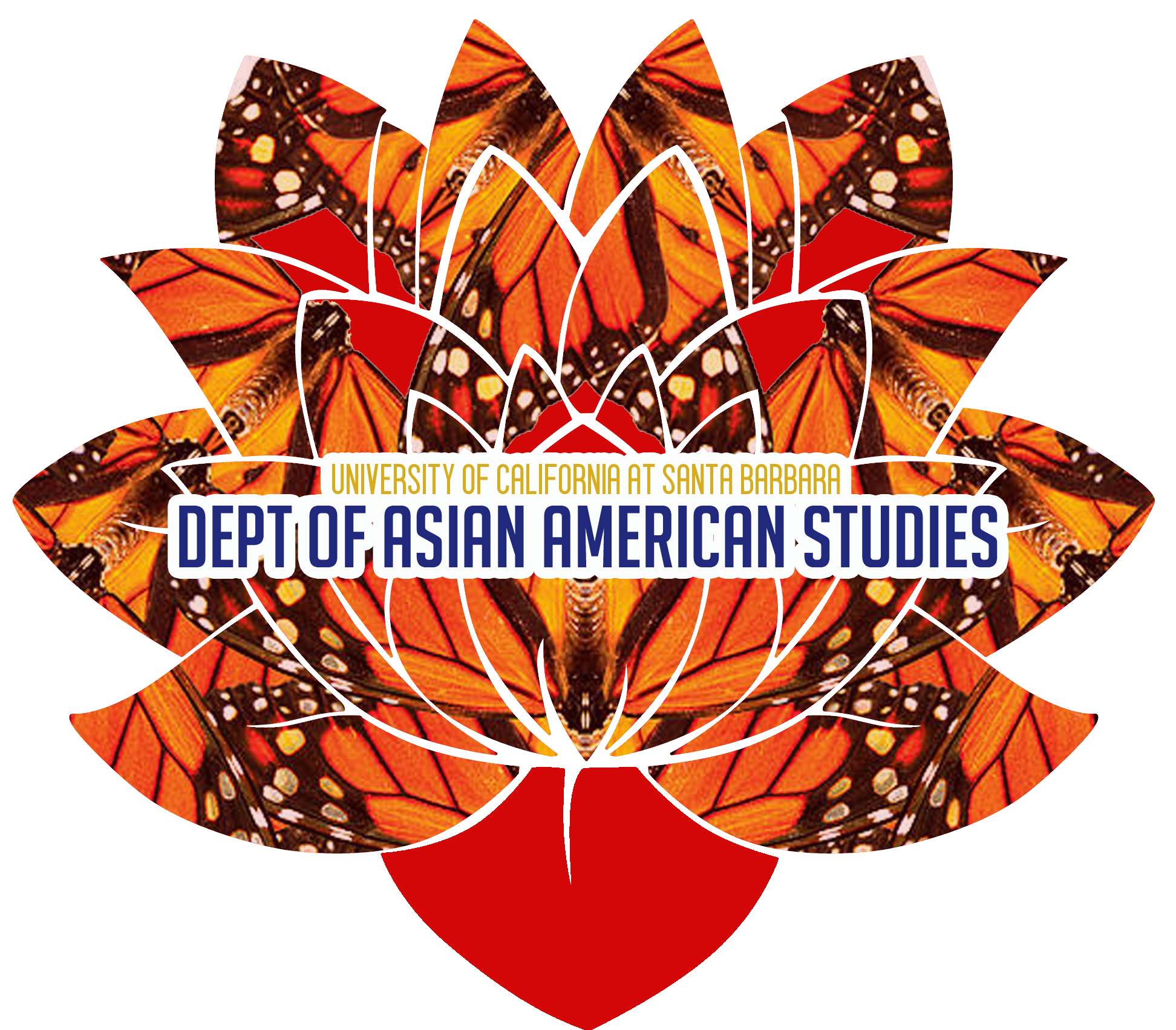 The Department of Asian American Studies at UCSB was the very first academic department dedicated to the study of Asian Americans at a major research university, and the first department in the United States to offer a Bachelor of Arts degree in Asian American Studies.
The Department offers undergraduate majors the opportunity to study and understand the experiences of Asian Americans, particularly their histories, communities, and cultures. Students learn to evaluate the existing literature in Asian American Studies, to analyze a variety of data on Asian Americans, to conduct original research, and to participate in internships and social justice issues.
A minor degree, Honors program, and community studies courses are also available to students. The Department provides a well-rounded, interdisciplinary curriculum which engages approaches from traditional disciplines, including history, sociology, anthropology, and literature, as well as from interdisciplinary scholarship in women's studies, law and society, public policy, global studies, social movements, cultural studies, and film and media studies.
STUDENT SPOTLIGHT: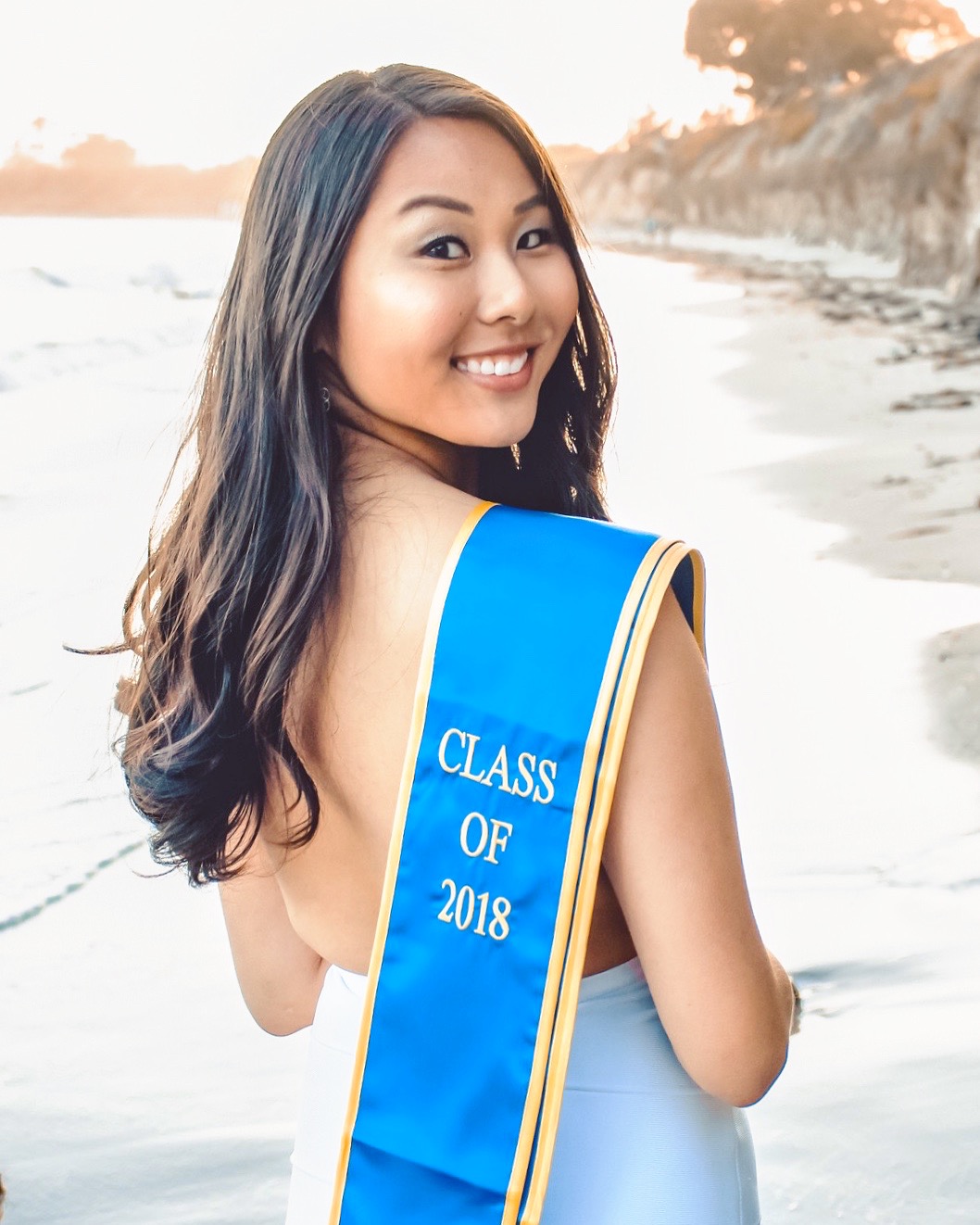 With the invaluable curriculum from the Departments of Asian American Studies and Psychology, I have been fervently compelled to critically examine the influence of sociopolitical phenomena on people's thoughts, feelings, and behaviors. The combined insight gleaned from these majors has propelled me to pursue a Master of Social Work from the University of Pittsburgh this August, rendering the achievement of social justice a professional goal of mine. UCSB has been quintessential and formative to my academic, vocational, and personal growth. I have had a phenomenal undergraduate experience here. - Eileen Chung
Congratulations on your acceptance to the University of Pittsburgh, Eileen! We are very excited for you!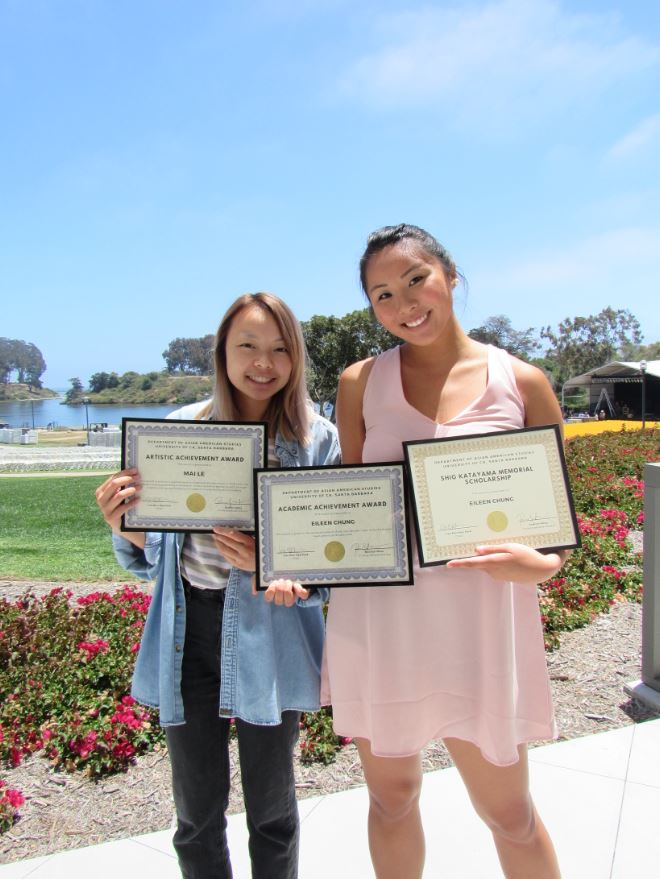 Congratulations to our Department Award Winners
Eileen Chung, winner of the Academic Achievement Award with the highest GPA in the ASAM Major, and winner of the Shig Katayama Memorial Scholarship.
Mai Le, Winner of the Artistic Achievement Award with a strong record of artistic achievement!
Congrats again and we are excited to see you graduate this year!!
SAVE THE DATE!
Contemporary Asian American Activism and Intergenerational Perspectives:
An Activist-Scholar Symposium
January 24-25, 2019 at UC Santa Barbara
This symposium brings together some of the most important Asian American community organizers and activist-scholars to discuss various aspects of Asian American grassroots activism today, including immigrant rights, environmental justice, labor, housing, education, prisons, state violence, intersectional racialized gender and heteropatriarchy, and international solidarity work.
Keynote Speaker: Pam Tau Lee --  The Struggle to Abolish Environmental Racism: Asian Radical Imaginings from the Homeland to our Frontlines
Thursday, January 24, 2019, 6 PM, UCSB MultiCultural Center
Rooted in 50 years of Asian American radical activism and environmental justice organizing, Pam Tau Lee addresses the question, "Can an Asian radical perspective contribute towardachieving environmental justice?" Pam Lee is a founding member of the Chinese Progressive Association, Asian Pacific
Environmental Network, and the Just Transition Alliance.
Asian American Activism Symposium
Friday, January 25, 2019, 11 AM – 3 PM, UCSB MultiCultural Center
Speakers include:
 Angelica Cabande, South of Market Community Action Network
 Ga Young Chung, Korean undocumented immigration rights
 May Fu, University of San Diego, educational transformation
 Soya Jung, Change Lab
 Pam Tau Lee, Asian American environmental justice organizer and veteran Asian
American Movement activist
 Irma Shauf-Bajar, GABRIELA USA
 Alex Tom, Chinese Progressive Association
 Eddy Zheng, Asian Prisoner Support Committee
 Karen Umemoto, UCLA, activist-scholarship and juvenile justice reform
Schedule:
11:00-11:15 AM   Welcome
11:15-12:05 PM   Panel I
-Sonya Jung, Change Lab
-Alex Tom, CPA
-Eddy Zheng, Asian Prisoner Support Cmte.
-Ga Young Chung, Korean undocumented girls
-Karen Umemoto, Juvenile Justice Reform
12:10-12:50 PM   Panel II
 -Irma Shauf-Bajar, GABRIELA USA
 -Angelica Cabande, SOMCAN
 -May Fu, Educational Transformation
 -Pam Tau Lee, Asian American organizing
12:50-1:15 PM   Lunch -- open & free to all attendees and participants. Hosted by the UCSB Department of Asian American Studies
1:15 - 2: 15 PM   Break-out Discussions  I  lunch continued into the discussions
2:20 - 3:00 PM    Reflection and Commentary
Community Dialogue on Interngenerational Solidarties, Friday, January 25 at 7PM
La Casa de la Raza
601 E. Montecito Street, Santa Barbara
Light dinner provided free at 7 PM
Dialogue at 7:30 PM
Hosted by the UCSB Department of Asian American Studies, UC Davis Department of Asian American Studies, and UCLA Asian American Studies Center. Sponsored by the UC Humanities Research Institute; UC Davis Bulosan Center for Filipino Studies; from UCSB: Center for Black Studies Research, Office of the Dean of Social Sciences, Office of the Associate Vice Chancellor of Diversity, Equity and Inclusion, MultiCultural Center, Global Environmental Justice Project, Interdisciplinary Humanities Center, and Nikkei Student Union; Fund for Santa Barbara.
Commemorating the 50th anniversary of Asian American Studies
UC Santa Barbara, UC Davis, UCLA
Upcoming Events
January 24, 2019 - 6:00pm

January 25, 2019 -

11:00am

to

3:00pm

January 25, 2019 - 7:00pm