Event Date:
Tuesday, January 26, 2021 -

4:00pm

to

6:00pm
Event Location:
https://ucsb.zoom.us/j/84178208506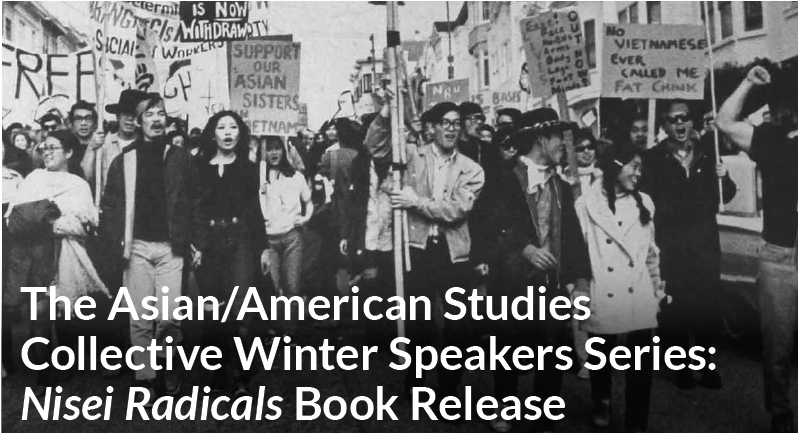 The Asian/American Studies Collective RFG is proud to celebrate the publication of Dr. Diane Fujino's book, Nisei Radicals: The Feminist Poetics and Transformative Ministry of Mitsuye Yamada and Michael Yasutake. This talk examines the feminist poetics of Mitsuye Yamada and the transformational "jubilee liberation" ministry of her brother, Rev. Michael Yasutake. Yamada's sensitive writings are known for revealing tropes of silence in the lives of Japanese American women. Yasutake moved from military resistance during World War II to explicit opposition to US and Japanese imperialism and support for political prisoners. Through biographical study, the book reveals Nisei resistance in the 1970s to 1990s, understudied intergenerational continuity, and a radical lineage of Japanese American activism.
Diane Fujino is professor of Asian American Studies at UC Santa Barbara. Her scholarship centers on Asian American and Black liberation struggles and includes books on Yuri Kochiyama, Richard Aoki, and the Black Panther Party.
Dr. Fujino's talk will take place on Tuesday, Jan. 26, 2021, from 4:00 pm to 6:00 pm. Click on the Zoom link in the lefthand column of this announcement to attend. Also, the University of Washington Press is offering a 40% discount code for Nisei Radicals' book release. The book can be purchased at this link and the discount code is "WASH20".
January 14, 2021 - 11:10am